ConnectNow Online Giving
Our ConnectNow Giving Website has many features that makes donating easy:
You can create an account and schedule recurring donations
You can make a one-time gift without creating an account
You can make multiple donations for different funds at the same time
You can give by credit card or checking
Create An Account
If you'd like to create an account, first click on the SIGN IN tab at the top. At the bottom of the login page, click on the registration link at the bottom of the page that says REGISTER FOR AN ACCOUNT.
Make a Donation
The process for donating when logged in, or making a one time gift are the same. Click on the 'GIVE NOW' tab, select the fund, and enter the amount. If you'd like to make multiple donations at once, click the ADD DONATION link.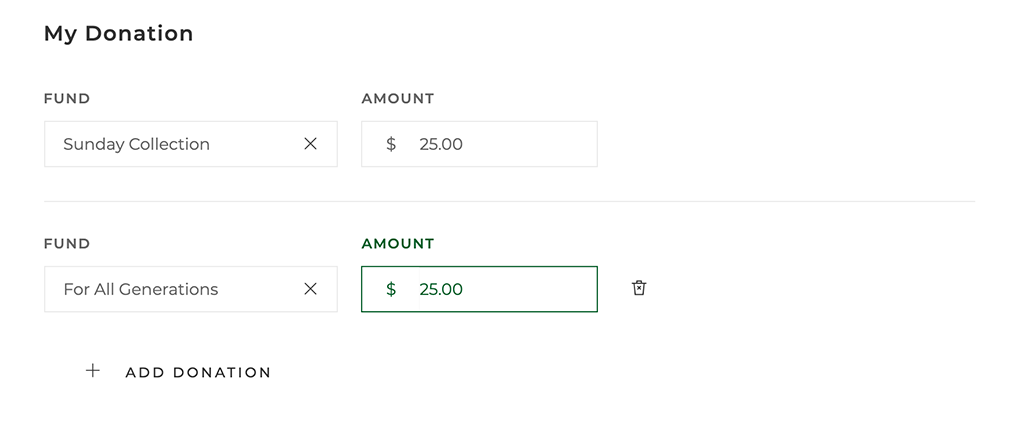 To make the gift recurring, click the MAKE THIS GIFT RECURRING link. You can select a start date if you would like to schedule your donation for a future date. Note: if you are not logged in, the page will automatically take you to the LOG IN tab.
Select to pay by either credit card or checking account and enter in your account details. If you would like to save a credit card for future use, click on the SAVE CARD option underneath the email field under the 'Billing Information' section. You can update your card information anytime in your account settings .
ConnectNow will email you a receipt of your donation to the email address you supply.

Managing Your Account
To manage your account, click on the circle icon with your initials next to the banner on top of the page and select the 'My Account' option.

On the side of the page, there are three links, Personal Info, Payment Methods, Account Info.
Updating your Account Information
To update your name and address, click on the Personal Info link.
To update your email address or password, click on the Account Info link.
Managing Your Payment Methods
You can edit or delete your account information by clicking Payment Methods. 
If you'd like to add another account, click on ADD PAYMENT METHOD at the bottom of the page.