Dear St. Mary of the Angels Parishioners,
As of March 13th, the Archdiocese of Chicago has mandated that all public masses be cancelled. Thank you for your continued understanding and prayers in this difficult time.
The Sunday collection is the largest portion of financial support for our parish and is critical to our sustainability. Our bills continue whether we have Sunday Mass or not. Your ongoing support is much appreciated.
We welcome those who can drop off their weekly envelope at the parish (mail slot) or mail their weekly envelope to 1850 N. Hermitage Ave., Chicago, IL 60622, or arrange some form of electronic giving. Click on the link below to give electronically. If you have questions regarding setting up online donations, don't worry, we can help! Please contact the parish office at 773-278-2644 or email .
You are in our prayers,
Fr. John R. Waiss
Keep the Graces Coming!
Although daily masses will not be said at our parish, here are some other media outlets where you can listen or watch daily and Sunday masses:
We also are posting our online liturgies and homilies here: Online Liturgies
St. Mary of the Angels will continue to be open daily from 7:00am to 6:00pm for private prayer. Consider adding a spiritual communion and/or a visit to the Blessed Sacrament to your prayer as an extra devotion.
Spiritual communion:
I wish my Lord to receive you, with the purity, humility and devotion with which your Most Holy Mother received you, with the spirit and fervor of the saints.
Our regular Confession schedule will continue until further notice:
Saturday 10 am – 1pm; 4-5pm
Tuesday 9:30am – Noon
Wednesday 4:30pm – 5:30pm
Thursday 11am – 1pm; 3:30 – 5:30pm
All of these are good ways to receive graces to sustain you on your continued Lenten Journey! God's grace is still available to us…all we have to do is ask!
If you would like more resources like this, sign up for our Daily Connections E-Mail list for more resources to help you ask for those abundant graces Our Lord is so eager to give!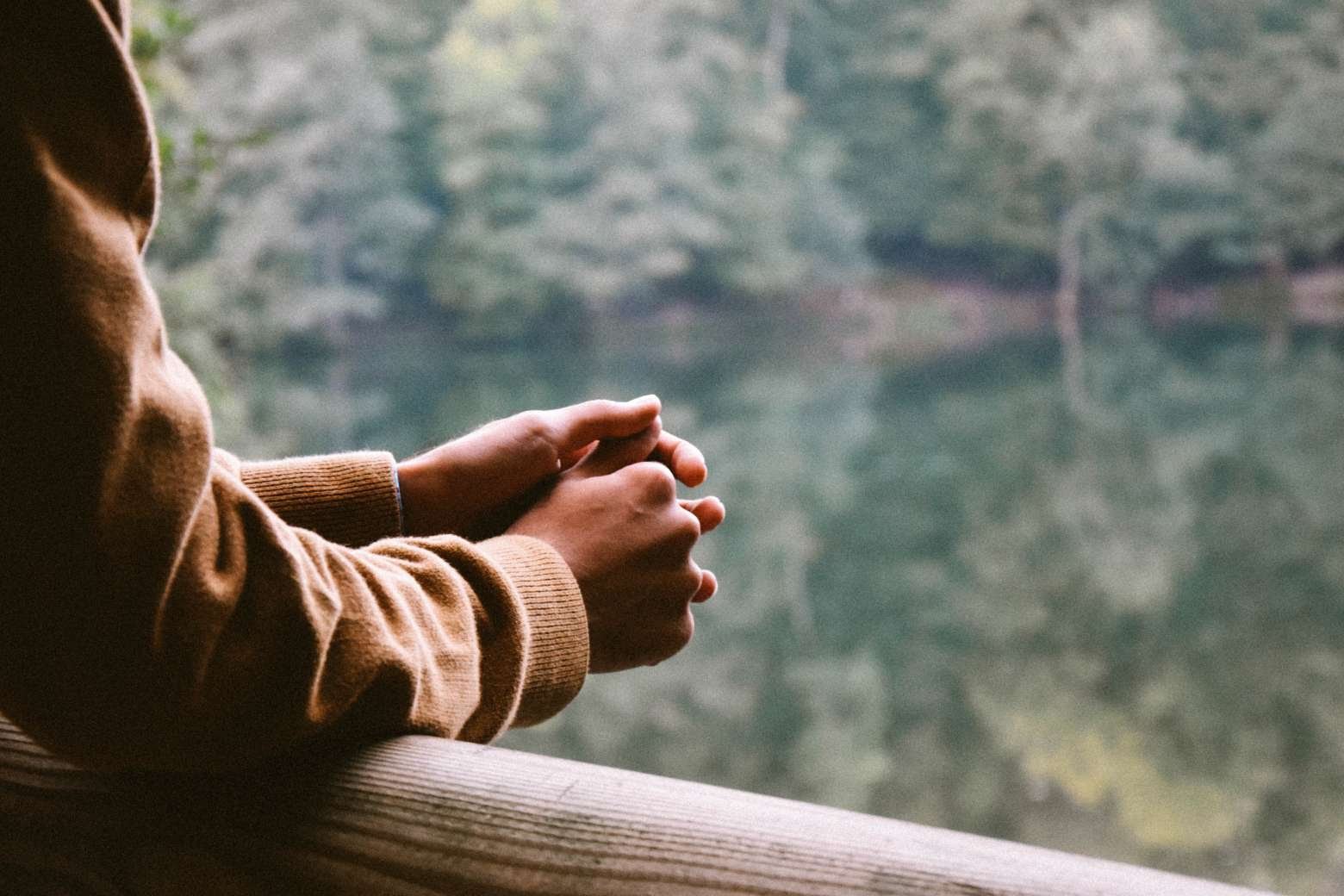 A Call For Help
Let us not forget in this time of Lent, those who are most vulnerable to this pandemic that is sweeping our world.
Below are two forms for those who are in need of help and those who are able to offer aid of any kind.
If you are in need of help, please do not If you are able to help in any way, be it going to the store or pharmacy, babysitting children or even just being available to make a phone call, our parish family is grateful.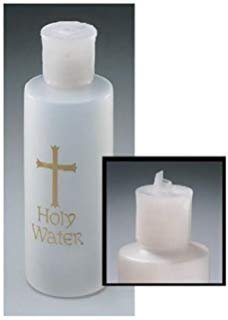 Holy Water Fonts
As Holy Water has been removed from the fonts of churches throughout the Archdiocese of Chicago, St. Mary of the Angels will provide Holy Water in little 2 oz. bottles for you to bless yourself and to take home with you. Let's remind the demons and the angels that we have been Baptized in the name of the Father, and of the Son, and of the Holy Spirit. This is a sign that we belong to Christ!
Holy Virgin of Guadalupe,
Queen of the Angels and Mother of the Americas.
We fly to you today as your beloved children.
We ask you to intercede for us with your Son,
as you did at the wedding in Cana.
Pray for us, loving Mother,
and gain for our nation and world,
and for all our families and loved ones,
the protection of your holy angels,
that we may be spared the worst of this illness.
For those already afflicted,
we ask you to obtain the grace of healing and deliverance.
Hear the cries of those who are vulnerable and fearful,
wipe away their tears and help them to trust.
In this time of trial and testing,
teach all of us in the Church to love one another and to be patient and kind.
Help us to bring the peace of Jesus to our land and to our hearts.
We come to you with confidence,
knowing that you truly are our compassionate mother,
health of the sick and cause of our joy.
Shelter us under the mantle of your protection,
keep us in the embrace of your arms,
help us always to know the love of your Son, Jesus.
Amen

Novena to Our Lady of Lourdes
In these troubled times when, because of the Wuhan coronavirus, many of our contemporaries are concerned for the future, let us ask the Lord that through the intercession of Our Lady of Lourdes, he may grant us renewed confidence, hope and peace in our hearts.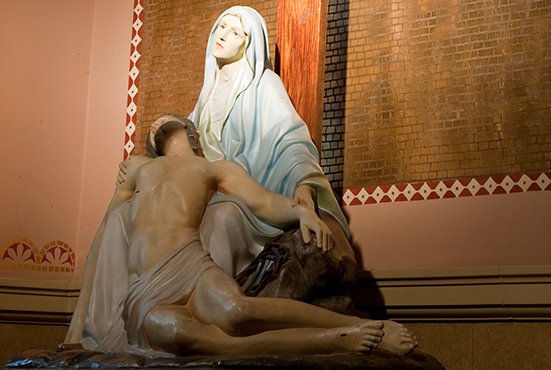 WAY OF THE CROSS /VÍA CRUCIS /DROGA KRZYŻOWA
In light of recent events, we will not be having our usual gatherings on Fridays for Stations of the Cross. As the Church will still be open from 7:00am until 6:00 pm for private prayer, please consider doing this wonderful Lenten devotion on your own.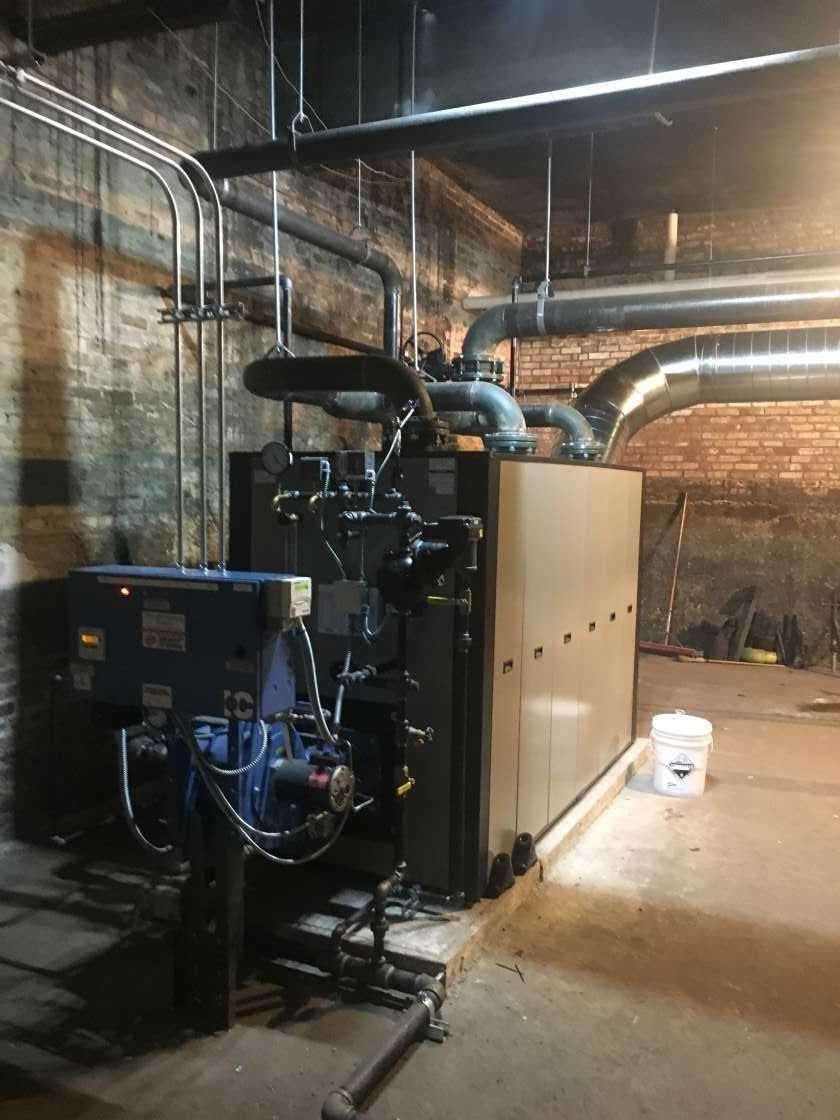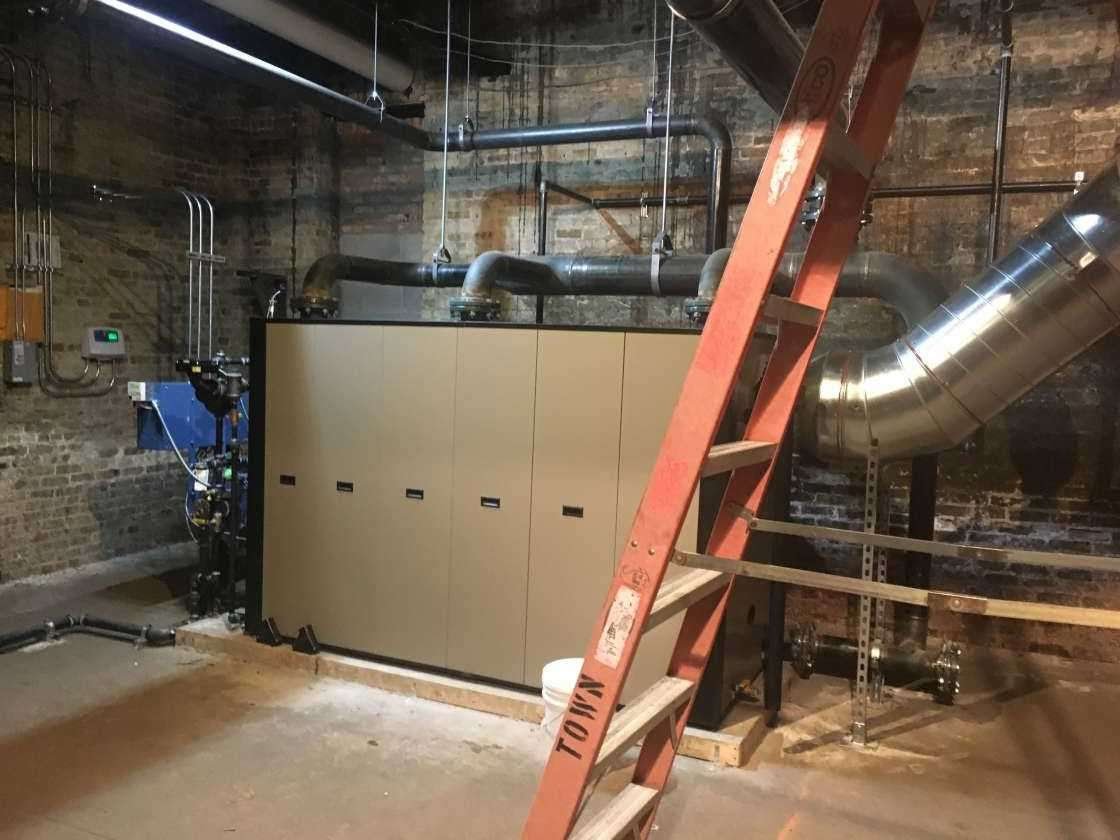 Boiler Update
We have an update on our new boiler! Once the new boiler is tested and functioning, the old one will be disconnected and removed. The new boiler is much smaller than the old one, more energy efficient, and should be up and running within a few weeks time. We thank you for all your support and patience through this process!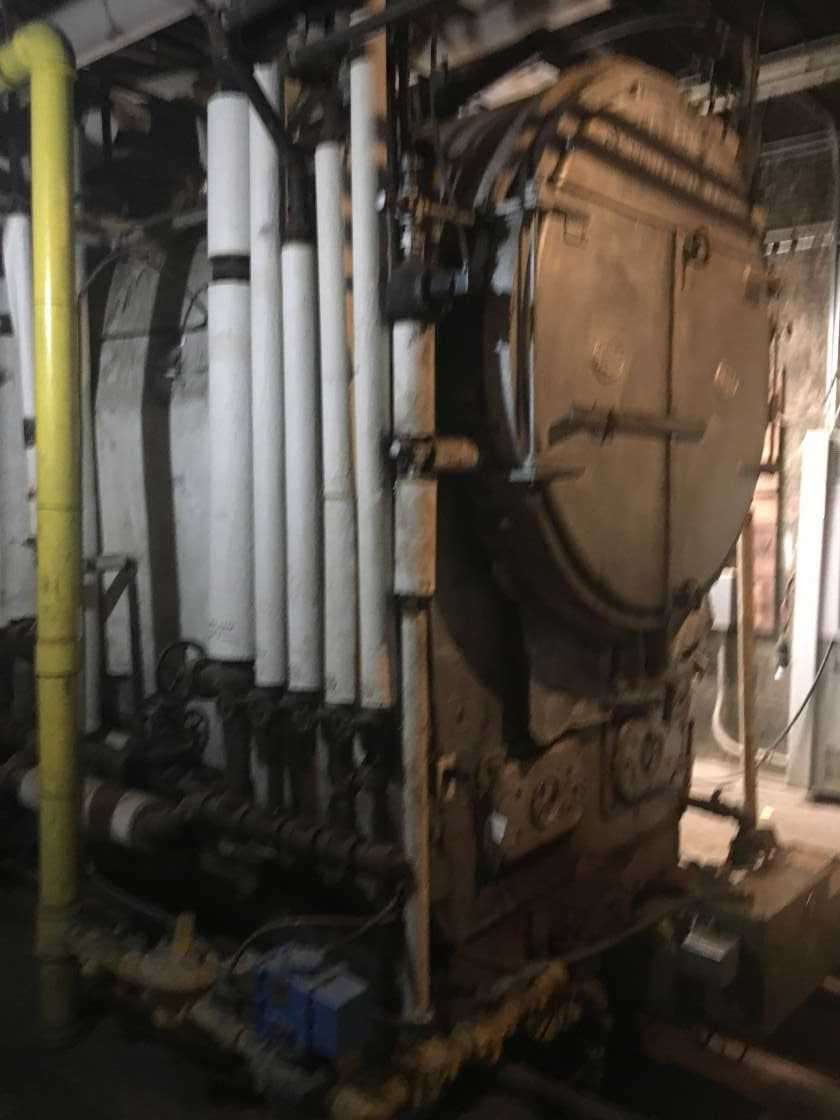 Kid's Corner
Let's not forget that we still have reasons to celebrate! This week is the Church celebrates two wonderful saints. Here are some ideas from the blog Catholic Icing to help celebrate
St. Patrick (March 17)
and
St. Joseph (March 19)
with your little ones all while keeping the cabin fever at bay! Happy Feast Days to everyone!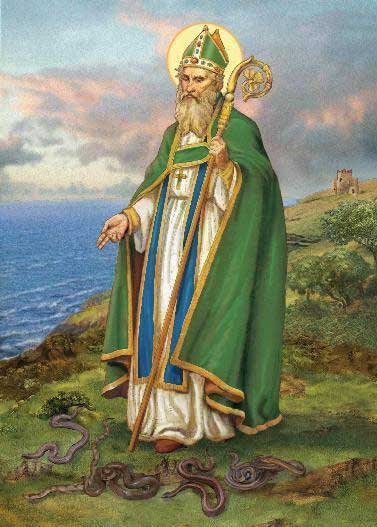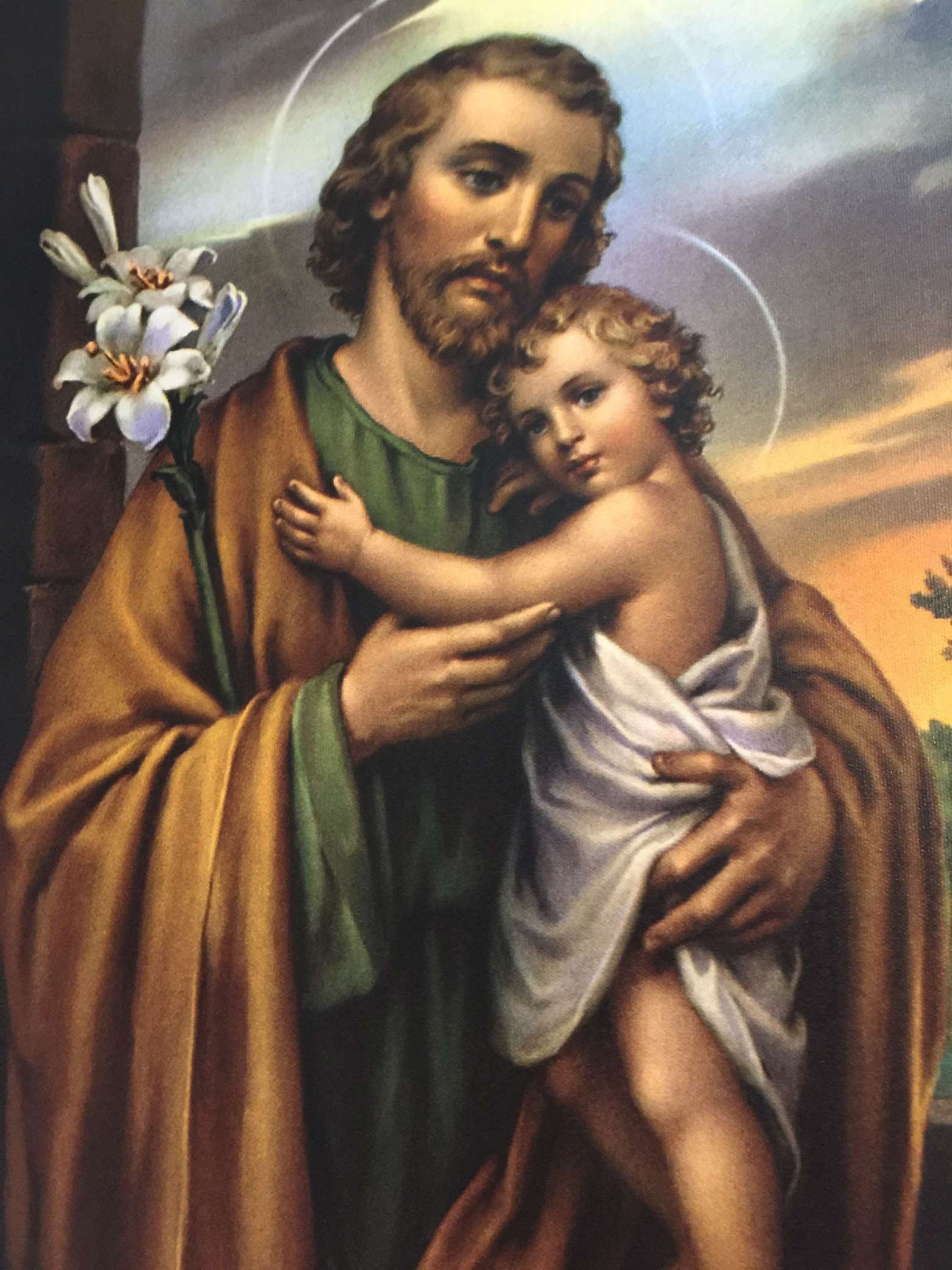 SPRING 40 DAYS FOR LIFE PRAYER VIGIL
The Spring 40 Days for Life Prayer Vigil is from February 26 to Palm Sunday, April 5.
St Mary of the Angels day of prayer is
Sunday March 22 from 7am to 7pm at Family Planning Associates Facility (4341 N. Milwaukee Ave.)
.
Please consider praying for an hour or more with us. Sign up sheets will be at the church entrances.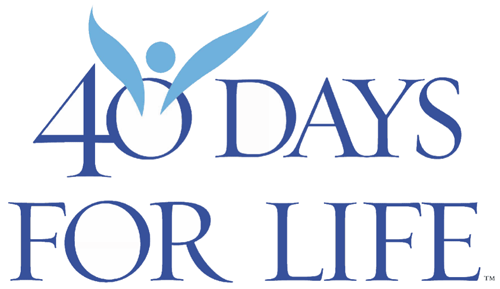 F
OOD
D
RIVE
St. Mary of the Angels Religious Education classes are sponsoring a Food Drive.
We are collecting non-perishable food on Sundays during March, in the School Office, from 9:30-10:45 am.
This Lent you can help the needy!
Where do we come from? Where are we going?
Answering these questions is essential for understanding who we are and how we are to live our lives… MADE FOR MORE is an inspired blend of teaching, live music, and art that taps the deepest desires of the human heart revealing their ultimate purpose and goal. Join Christopher West and Mike Mangione as they offer a vision of the Gospel like you've never heard through the lens of Saint John Paul II's Theology of the Body. This event is appropriate for ages 16 and up. CO-HOST: St. Mary of the Angels
Tickets $25 available in the Parish Office, after Sunday Masses on Feb. 8/9, 15/16 and 22/23 and online at: CORPROJECT.COM/CHICAGODOWNTOWN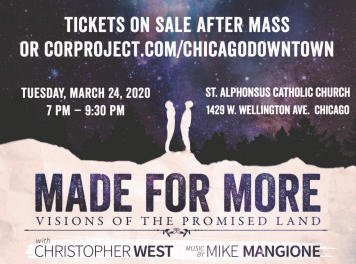 PROGRAMA "CANA" 2020
Como cada año, St. Mary of the Angels ofrecerá el Programa "Caná", dirigido a ayudar a aquellas parejas que están casadas solamente por el civil o que no están casadas, a que se casen por la Iglesia en una ESPLÉNDIDA CEREMONIA el sábado 9 de mayo. Para más información, favor de llamar a la Sra. Martha Jaime en la Oficina Parroquial. ¡Qué buena ocasión para que ustedes o a alguien de su familia, o sus amigos arreglen su situación ante el Señor y su Iglesia!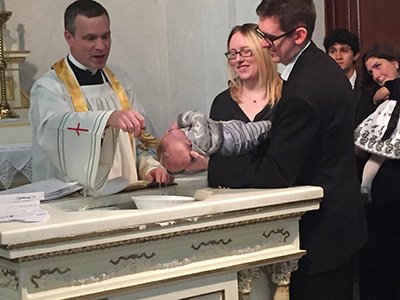 BAPTISM
We welcome into the Catholic Church: Saverio Alzati, Mia Morales, Margaret Breslin, Jayden Rivera, Beckham Heck, Audrey Reynolds, Evalina Vargas and Luciano Gonzalez, who were baptized here at St. Mary of the Angels.
Renew Our Parish: New Mass Times
Our great dream and desire is to renew St. Mary of the Angels parish, a great beacon of the Faith here in Chicago. The goal of renewal is the ongoing growth in sanctity of our parishioners and the mission–legacy we share with Christ to evangelize the people of Bucktown, Wicker Park, and all of Chicago. This is why we pray to St. Joseph at Mass; this is why we pray the Memorare prayer to Our Lady.
The feedback from the vast majority of you suggests that we can reach more families by adjusting our Mass times. So, entrusting ourselves to God's help, we will try.
Responding to your feedback, we will try a new Sunday Mass schedule. Starting in JUNE 2020:
Saturday Vigil, English 5:00 pm; Polish 6:30 pm;
Sunday, English 8:00 am; 10:00 am; Spanish 12:00 noon; English 7:15 pm.