ST. MARY OF THE ANGELS SCHOOL
Angels Of Hope
Dinner – Dance – Auction – Raffle
Tickets are now on sale!
Join us on Friday, February 21 for an evening of fellowship and fundraising for St. Mary of the Angels School. Purchase tickets at bidpal.net/aoh2020.
Women's Lenten Small Groups
Thursdays During Lent
Do you want your friendships to be deeper and more meaningful than Facebook "likes"? Are you looking for a community of companions to create true spiritual bonds?
Join other women from SMA for a Lenten, small group book discussion and faith sharing group. Women will meet at the parish each Thursday evening during Lent at the parish to discuss the book "The Friendship Project: The Catholic Woman's Guide to Making and Keeping Fabulous, Faith-Filled Friends".  Focusing on faith, hope, love, prudence, gratitude, loyalty, generosity, and prayerfulness, the authors help us answer questions such as, "What does it mean to be women of hope, and how does that change our lives and make us more compassionate friends during difficult times?" and "How does prayerfulness teach us how to listen to and talk with both God and our friends, which helps us reach out to those we love?"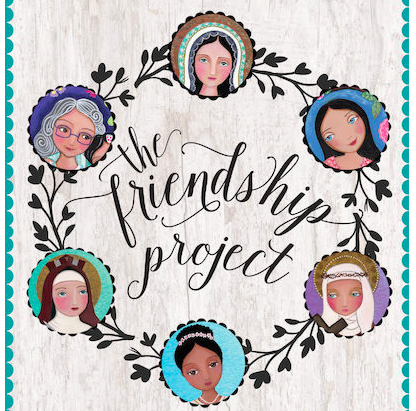 Interested women should email Alli at  for more information and to join the small group. 
Where do we come from? Where are we going?
Answering these questions is essential for understanding who we are and how we are to live our lives… MADE FOR MORE is an inspired blend of teaching, live music, and art that taps the deepest desires of the human heart revealing their ultimate purpose and goal. Join Christopher West and Mike Mangione as they offer a vision of the Gospel like you've never heard through the lens of Saint John Paul II's Theology of the Body. This event is appropriate for ages 16 and up. CO-HOST: St. Mary of the Angels
Tickets $25 available in the Parish Office, after Sunday Masses on Feb. 8/9, 15/16 and 22/23 and online at: CORPROJECT.COM/CHICAGODOWNTOWN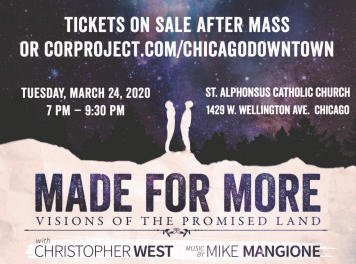 PROGRAMA "CANA" 2020
Como cada año, St. Mary of the Angels ofrecerá el Programa "Caná", dirigido a ayudar a aquellas parejas que están casadas solamente por el civil o que no están casadas, a que se casen por la Iglesia en una ESPLÉNDIDA CEREMONIA el sábado 9 de mayo. Para más información, favor de llamar a la Sra. Martha Jaime en la Oficina Parroquial. ¡Qué buena ocasión para que ustedes o a alguien de su familia, o sus amigos arreglen su situación ante el Señor y su Iglesia!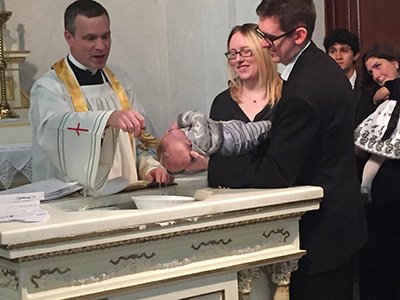 BAPTISM
We welcome into the Catholic Church Marilyn Adela Lopez, Mairéad Navan Shine and Parker Justus Mouser, who were baptized here at St. Mary of the Angels last week.
Renew Our Parish: New Mass Times
Our great dream and desire is to renew St. Mary of the Angels parish, a great beacon of the Faith here in Chicago. The goal of renewal is the ongoing growth in sanctity of our parishioners and the mission–legacy we share with Christ to evangelize the people of Bucktown, Wicker Park, and all of Chicago. This is why we pray to St. Joseph at Mass; this is why we pray the Memorare prayer to Our Lady.
The feedback from the vast majority of you suggests that we can reach more families by adjusting our Mass times. So, entrusting ourselves to God's help, we will try.
Responding to your feedback, we will try a new Sunday Mass schedule. Starting in JUNE 2020:
Saturday Vigil, English 5:00 pm; Polish 6:30 pm;
Sunday, English 8:00 am; 10:00 am; Spanish 12:00 noon; English 7:15 pm.
THIS WEEK AT SMA
SUNDAY, FEBRUARY 16
9:30 am: CCD classes @ School Building
3:00 pm: Retiro Espiritual para hombres en la Capilla de San Josemaría
Monday, February 17
7:00 pm: Evening of Recollection for men @ Midtown Chapel
7:30 pm: RCIA classes @ Parish Office
TUESDAY, FEBRUARY 18
6:30 pm: Legion of Mary @ Parish Office
7:00 pm: Holy Spirit Prayer Group Bible Study @ Parish Office
WEDNESDAY, FEBRUARY 19
9:30 - 11:30 am: Moms & Tots @ Playroom
4:30 pm - 5:20 pm: Confessions in the St. Josemaría Chapel
5:30 pm: Mass in Latin Novus Ordo
THURSDAY, FEBRUARY 20
9:50 am: Exposition of the Blessed Sacrament in the St. Josemaría Chapel
11:00 am - 1:00pm: Confessions in the St. Josemaría Chapel
3:30 pm - 5:20 pm: Confessions in the St. Josemaría Chapel
5:00 pm: Rosary for Peace in the St. Josemaría Chapel
8:15 pm: Benediction in the St. Josemaría Chapel
SATURDAY, FEBRUARY 22
10:00 am - 1:00 pm: Confessions in the St. Josemaría Chapel
4:00 pm - 5:00 pm: Confessions in the St. Josemaría Chapel
SUNDAY, FEBRUARY 23
9:30 am: CCD classes @ School Building